Reversible Black Walnut Wood Cutting Board
Details
LARGE, MULTI-FUNCTIONAL, REVERSIBLE CUTTING BOARD - Seasoned and ready to use, these long-lasting, versatile works of art can be used for carving, chopping, charcuterie, and more. Expertly carved drip grooves catch excess liquid and help maintain a clean countertop when preparing veggies, fruits, and meats.

DURABLE, KNIFE-FRIENDLY SURFACE - Our fully cured, Eco-friendly wooden cutting boards are made from premium grade black walnut that's gentler on chef knives, cutlery, and utensils while boasting natural, self-heal properties designed to prevent warps, cracks, or splinters for years when properly maintained. 
BEAUTIFUL, ONE-OF-A-KIND QUALITY - Our full process takes over one year to harvest, mill, kiln dry, and finish each cutting board, making them a truly unique and beautiful addition to any kitchen. Perfect for prepping and serving meats, poultry, cheese, bread, vegetables, and all of your delicious favorites. 
AMERICAN MADE CRAFTSMANSHIP - Handcrafted by true wood artisans in the heart of the Ozarks, these beautiful black walnut cutting boards are sustainably sourced, and feature-rich wood grain, vibrant color, and a story found in each unique piece. 
 Artisan Born is a family-owned, American-made producer of solid wood slab furniture, countertops, and furniture located in the heart of the Ozarks. We not only offer the world's most excellent black walnut slabs, mantles, and countertops; we also back everything with the best customer service in the industry. Our expert staff is ready to help ensure you and your customers are 100% satisfied with their Artisan Born experience. 
Artisan Born's Quality is the highest priority from the very beginning. We hand select the very best logs, slabs, and materials always checking the quality at each step of manufacturing to ensure you have the very best kiln-dried and surfaced wood you can find. Our processes ensure the beauty of the wood is preserved without losing color and contrast and providing the most excellent material you can buy.
Our durable and family-friendly pieces are designed to resist the wear and tear of everyday use, so you can enjoy them for years to come. Plus, our furniture is water and heat-resistant, making it the perfect choice for any home. Every piece of furniture we make is finished with a natural oil based finish. To maintain your furniture in its best shape, we recommend that you follow a few simple steps:
1. Keep surfaces dry
To maintain the quality of your finish, it is important to wipe up any prolonged standing water.
2. Protect from heat
Placing hot serving dishes on a heating pad or other protective surface is one way to help prevent staining on your table.
3. Use approved cleaners
Steer clear of any harsh, unapproved chemical-based cleaners or polishes to maintain your furniture's finish.
---
Happy Customers, in Real Life
Customers making us look good
---
Have A Question? Give us a call
From Start to Finish -
We Make Each

Piece for You
01

Sustainably
Sourced Logs

02

Milled by us

03

Kiln Dried

04

Built & Shipped

05

We replant for every
tree harvested
Customer Reviews
Write a Review
Ask a Question
07/03/2021
Carole C.

United States
01/26/2021
Jeannette N.

United States
Love this cutting board!
I searched the internet for a quality walnut board and found many cheap imitations. Artisan Boards cares about their product and even helped me with a promo code. The board is so pretty that I leave it on the counter when its not in use. It's, beautiful, functional and best of all it does not slip or warp. Thank you!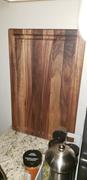 Prettiest cutting board I've ever seen!
Fabulous cutting board (Black Walnut Wood Cutting Board with trivet). It was dedicated to be a wedding gift for our friends who like to barbeque a lot. There were plenty of ooh's and ahh's when received! No doubt in my mind, it will be put to good use very soon. Thank you for sharing your woodworking talent.
123321123
---
Why buy from us?
Fully Customizable

Each piece is handcrafted to your specifications.

Fast Shipping

Ready to ship in 1-2 weeks with Fast shipping in the US.

Built to Last

We stand by our work. Over 3000 happy customers.

We're here to Help

Have a Question? Our Customer Care team is just a phone call, chat, or email away.
New products, big savings - right to your inbox.
Stay up to date. Unsubscribe at any time.