Custom-Made Live Edge Walnut Console Table
Details
This handmade black walnut live edge console table will bring a warm organic feel to any area of your home and will last a lifetime. Customize to fit exactly what you need. 
In-Stock Sizes that Ships in 48hrs:
48"L x 10-14"D x 30"H (U Shape or Hairpin)
72"L x 14-17"D x 36"H (U Shape Legs) 
Console tables can be ordered in Narrow (10-14) Deep (14-17) inches deep depending on the character of the wood. The width range allows for some variance in the natural live edge. They can be ordered 30", 36" or 42" tall and are made out of a 1.5-1.75" thick piece of solid black walnut. All of our tables are handcrafted in the heart of the Ozarks with superior quality materials. 
Pictured in Walnut are examples of the Live Edge Console Table.
Clear Matte; Respects the natural 'look & feel' of the wood
Durable Protection,

 

Family-friendly, resistant to everyday wear; 
Water and heat resistant
Our durable and family-friendly pieces are designed to resist the wear and tear of everyday use, so you can enjoy them for years to come. Plus, our furniture is water and heat-resistant, making it the perfect choice for any home. Every piece of furniture we make is finished with a natural oil based finish. To maintain your furniture in its best shape, we recommend that you follow a few simple steps:
1. Keep surfaces dry
To maintain the quality of your finish, it is important to wipe up any prolonged standing water.
2. Protect from heat
Placing hot serving dishes on a heating pad or other protective surface is one way to help prevent staining on your table.
3. Use approved cleaners
Steer clear of any harsh, unapproved chemical-based cleaners or polishes to maintain your furniture's finish.
---
123321123
---
Why buy from us?
Fully Customizable

Each piece is handcrafted to your specifications.

Fast Shipping

Ready to ship in 1-2 weeks with Fast shipping in the US.

Built to Last

We stand by our work. Over 3000 happy customers. No Veneer or MDF - Ever

We're here to Help

Have a Question? Our Customer Care team is just a phone call, chat, or email away.
---
Have A Question? Give us a call
Real furniture, from solid wood, made by us.
Artisan Born's quality is the highest priority from the very beginning.We hand select the very best logs, slabs and materials always checking the quality at each step of manufacturing to ensure you have the very best kiln-dried and surfaced wood you can find.
Our processes ensure the beauty of the wood is preserved without losing color and contrast and providing the finest furniture you can buy.
From Start to Finish - We Make Each Piece for You
01

Sustainably
Sourced Logs

02

Milled by us

03

Kiln Dried

04

Built & Shipped

05

We replant for every
tree harvested
Customer Reviews
Write a Review
Ask a Question
09/26/2023
Sarah F.

United States
Favorite Piece of Furniture!
I was thrilled when my console table arrived! It came quickly, was easy to assemble, and perfect for the intended space. I asked about sizing before I ordered the table and Artisan Born responded promptly; they made a note about my requests and the table arrived just as I had hoped. My console table is easily one of my favorite pieces in my house. The fact that it is custom made makes it that much more special. I will definitely order from Artisan Born again. If you're hesitating about a purchase, go for it, you won't be disappointed.
Hello Sarah, Your Table LOOKS AMAZING!!!! So happy that you love your table and we are blessed to have you a part of the Artisanborn Family! Perfect Placement in your home. ENJOY! Thank you, Artisanborn
08/13/2023
Roxana T.

United States
Thank You So Much!
I am very happy and pleased with the companies service and the beautiful tables! Great additions to our mountain home in NC! Here are the pictures! Loved the colors, the knots on the pieces chosen!!! I had trouble finding what I wanted, I sort of knew what I wanted, and once I found Artisanborn, I knew I have found the company that I wanted. You accommodate the size, I was so happy! Looking forward to purchase a writing/computer desk in the future. Thank you so much!! Roxana
Hello Roxana, Love your home! Thank you for sharing with us and we are so happy to see that you are excited for your new Artisanborn Tables in your home. We cannot wait to make you another table. Just let us know when you are ready. Welcome to the Artisanborn Family! Thank you, Artisanborn
08/10/2023
Jamie D.

United States
Exactly What I Wanted
Hi Kyle and everyone else at Artisan Born: I LOVE my new custom table. See attached photo. It is exactly what I wanted. When I couldn't find a table in the size I needed, Kyle was extremely helpful and offered me a solution that worked perfectly. The levelers make the table the height I need. It's a beautiful piece and I'm proud to have it in my home.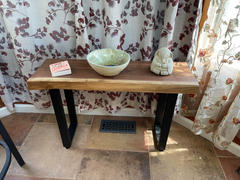 Hello Jamie, This is awesome to hear! We of course are happy that you love your table and that we were able to help you with your special request for the height of the table. Looks amazing! Welcome to the Artisanborn family! Thank you, Artisanborn
08/10/2023
Rosemary C.

United States
Blown Away!
I own several pieces of custom live edge furniture. When the Artisan Born table arrived, I was blown away with the quality and workmanship. I will be ordering many more pieces.
Hello Rosemary, Thank you so much for your kind words and the table looks beautiful in your home! We are ready to build more pieces when you are ready. Welcome to the Artisanborn family! Thank you, Artisanborn
08/08/2023
Deb G.

United States
Lovely table
Great
Hello Deb, Thank you so much. We appreciate your business and welcome to the Artisanborn family. Thank you, Artisanborn
Happy Customers, in Real Life
Customers making us look good
New products, big savings - right to your inbox.
Stay up to date. Unsubscribe at any time.