Modern Walnut Waterfall Console Table
Details
Bring home the beauty of nature with our handmade modern waterfall console table. Crafted in solid black walnut, white oak or maple suiting a range of interiors from modern, boho, to industrial. Made in the USA, this is a sturdy, stylish heirloom piece that will last – and be loved – for generations.
Make this table an entryway console that holds keys, showcases favorite objects, and sets the tone for your unique home aesthetic. Create an entertaining space with this stunning piece as your tv console. However you style this handmade table, the elegant design and quality craftsmanship are sure to impress.
Our durable and family-friendly pieces are designed to resist the wear and tear of everyday use, so you can enjoy them for years to come. Plus, our furniture is water and heat-resistant, making it the perfect choice for any home. Every piece of furniture we make is finished with a natural oil based finish. To maintain your furniture in its best shape, we recommend that you follow a few simple steps:
1. Keep surfaces dry
To maintain the quality of your finish, it is important to wipe up any prolonged standing water.
2. Protect from heat
Placing hot serving dishes on a heating pad or other protective surface is one way to help prevent staining on your table.
3. Use approved cleaners
Steer clear of any harsh, unapproved chemical-based cleaners or polishes to maintain your furniture's finish.
---
123321123
---
Why buy from us?
Fully Customizable

Each piece is handcrafted to your specifications.

Fast Shipping

Ready to ship in a few weeks with quick shipping in the US.

Built to Last

We stand by our work. Over 3000 happy customers. No Veneer or MDF - Ever

We're here to Help

Have a Question? Our Customer Care team is just a phone call, chat, or email away.
---
Have A Question? Give us a call
Real furniture, from solid wood, made by us.
Artisan Born's quality is the highest priority from the very beginning.We hand select the very best logs, slabs and materials always checking the quality at each step of manufacturing to ensure you have the very best kiln-dried and surfaced wood you can find.
Our processes ensure the beauty of the wood is preserved without losing color and contrast and providing the finest furniture you can buy.
From Start to Finish - We Make Each Piece for You
01

Sustainably
Sourced Logs

02

Milled by us

03

Kiln Dried

04

Built & Shipped

05

We replant for every
tree harvested
Customer Reviews
Write a Review
Ask a Question
11/01/2023
CJ i.

United States
Love it
Love the white oak waterfall console table! It took a while, which I didn't feel was clear during the ordering process, but it was worth it anyway for sure. Also wasn't notified until an hour before delivery and was out of town, so would have preferred a different date…but as I said I wasn't given an option and the deliverers just dropped it without anyone at my house. Anyway the table was exactly what I was looking for — not rustic, not dark, not light, custom size. Already looking at other pieces for my next purchase.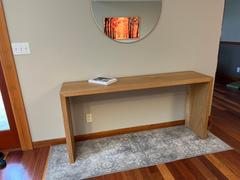 Hello CJ, Thank you for your review. We love that you love your Waterfall Console Table and as we stated it would be worth the wait. Thank you for your wonderful review and welcome to the Artisanborn family. Thank you, Artisanborn
07/19/2023
Sarah K.

United States
Beautiful Tables!
Tables are beautiful and came well packaged. Took longer to deliver than expected and was surprised to need a signature on delivery.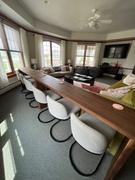 Hello Sarah, Thank you for being a part of the Artisanborn Family. The Waterfall Tables look amazing in your area! We are blessed to have had the pleasure to build these for you. Thank you, Artisanborn
05/15/2023
Rio B.

United States
Five stars
We are very happy with our console. It took a little longer for delivery but it was worth the wait. The service was excellent! We highly recommend Artisan Born.
Hello Rio, We are excited to see that you love your Waterfall Console Table. Welcome to the Artisanborn Family. Artisanborn
04/12/2023
Debora N.

United States
Love it!
My husband found this site, and then I saw the console table. It was exactly what we wanted. Kyle was kind enough to FaceTime with us to help us figure out the size we needed. We truly feel this was exactly what we wanted and when it arrived we knew we made the right decision. IT IS STUNNING!
Hello Debora, We are blessed to have you part of the Artisanborn family! Thank you for being a valuable customer and we are here if you need us. Artisanborn
04/12/2023
Courtney M.

United States
Beautiful custom sized table
I'd been looking for a counter height table to fill an awkward sized space in my kitcheng. After more than a year I finally found the perfect size table for the space. It's very well made and looks beautiful in person!
Hello, We are glad that you are enjoying your table! Welcome to the Artisanborn Family! ENJOY! Artisanborn
Happy Customers, in Real Life
Customers making us look good
New products, big savings - right to your inbox.
Stay up to date. Unsubscribe at any time.