Handmade Live Edge Walnut Narrow Desk
Details
This stylish black walnut live edge desk will bring a warm natural feel to any area of your home and will last a lifetime. Pick from mid-century modern hairpin legs or U Shape legs for a more modern look. All of our desks are handcrafted in the heart of the Ozarks with superior quality materials. 
Our durable and family-friendly pieces are designed to resist the wear and tear of everyday use, so you can enjoy them for years to come. Plus, our furniture is water and heat-resistant, making it the perfect choice for any home. Every piece of furniture we make is finished with a natural oil based finish. To maintain your furniture in its best shape, we recommend that you follow a few simple steps:
1. Keep surfaces dry
To maintain the quality of your finish, it is important to wipe up any prolonged standing water.
2. Protect from heat
Placing hot serving dishes on a heating pad or other protective surface is one way to help prevent staining on your table.
3. Use approved cleaners
Steer clear of any harsh, unapproved chemical-based cleaners or polishes to maintain your furniture's finish.
---
123321123
---
Why buy from us?
Fully Customizable

Each piece is handcrafted to your specifications.

Fast Shipping

Ready to ship in a few weeks with quick shipping in the US.

Built to Last

We stand by our work. Over 3000 happy customers. No Veneer or MDF - Ever

We're here to Help

Have a Question? Our Customer Care team is just a phone call, chat, or email away.
---
Have A Question? Give us a call
Real furniture, from solid wood, made by us.
Artisan Born's quality is the highest priority from the very beginning.We hand select the very best logs, slabs and materials always checking the quality at each step of manufacturing to ensure you have the very best kiln-dried and surfaced wood you can find.
Our processes ensure the beauty of the wood is preserved without losing color and contrast and providing the finest furniture you can buy.
From Start to Finish - We Make Each Piece for You
01

Sustainably
Sourced Logs

02

Milled by us

03

Kiln Dried

04

Built & Shipped

05

We replant for every
tree harvested
Customer Reviews
Write a Review
Ask a Question
My only very slight "complaint" is that I asked them to give me a heads up when it was ready and before it shipped as I was going away right around the time it could have been delivered, and they didn't. Turned out not to be an issue because it arrived way sooner than expected. Love the table. Looks great!!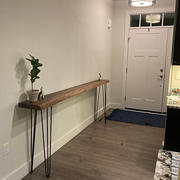 This desk is absolutely gorgeous, and makes working from home in my office feel so special. It's so finely crafted and unique, and I'm thrilled! It was shipped super securely, with markings for exactly where the legs should be drilled, which made assembly super fast and easy. Robert was extremely communicative and answered all messages and questions promptly. Highly recommend.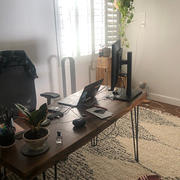 08/20/2020
amyarenz1

United States
Beautiful piece of furniture! Love it!
Beautiful piece of furniture! Love it!
08/20/2020
Vintage

United States
perfect product
perfect product at right price.
08/18/2020
ninaprestidge1606

United States
Happy Customers, in Real Life
Customers making us look good
New products, big savings - right to your inbox.
Stay up to date. Unsubscribe at any time.